Lifted Trucks for Sale
Carl Black Auto Superstore – Your One Stop Shop For Lifted Trucks For Sale!
If you're a truck owner or a first-time buyer looking for something just a little bit more exciting out of your vehicle, the lifted truck may be the right choice for you. With a variety of lifted trucks for sale at any time, Carl Black Hiram can save you the complicated outfitting process and provides an already souped-up truck that is ready to drive off the lot. With both used and new models on display, our selection is sure to offer something that catches your eye. Let's take a closer look at what the benefits of a lifted truck can provide, and what you will need to know about this unique type of vehicle if you decide to become an owner.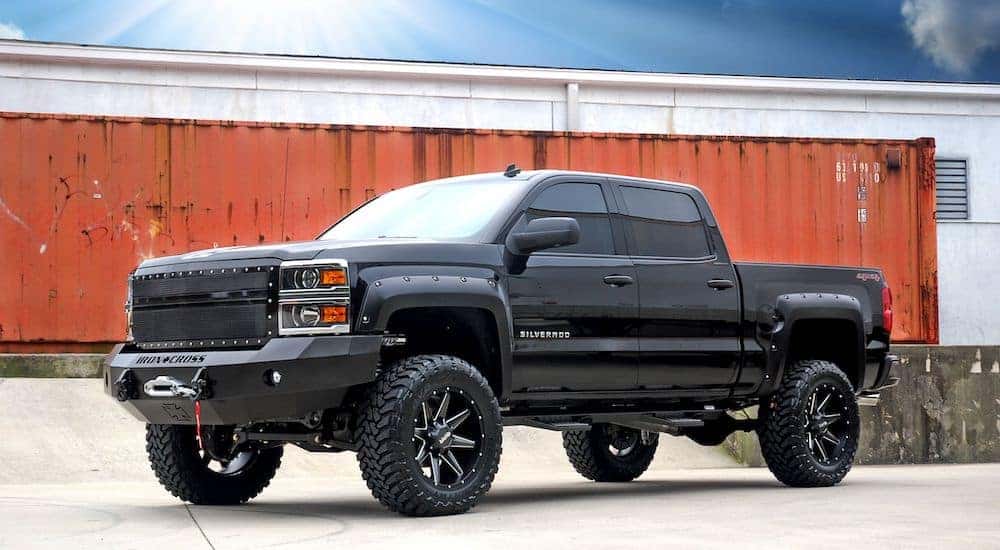 The Benefits of a Lifted Truck
The first and likely most obvious benefit that your lifted truck will provide is a vastly increased ground clearance due to its height. If you plan on frequently taking your vehicle off-road or onto job sites with obstacles and debris, lifting your truck can lift you above all of that, keeping your truck clean and your ride comfortable. Rides through thick mud and high sand become a veritable walk in the park once you take it on with a lifted truck.
The next advantage you will immediately notice is increased visibility. Now that your truck is towering over everyone else in traffic, you will have a much clearer view of everything around you. Curious about what's causing this pesky traffic jam? Just look around, now that you're up in the clouds, you can see for miles. Look over the roofs of all the other cars and take in the scenery! This benefit also helps with seeing blind spots and any other motorists that may pose a danger during your drive.
Also with the height of a lifted pickup is the ability to add huge, almost monster truck-sized tires. With the option to add these earth-crushing beauties to your ride, the increased size and deep treads will help you to traverse even the toughest and most unforgiving terrains. Working in tandem with the increased height of your truck, these wheels will make deep mud and rocky roads more comfortable and manageable than ever.
The next performance trait any good truck owner will pay attention to is your vehicle's capacity for towing. By allowing your truck to have more space in its suspension, the height can provide an improved weight advantage against whatever you're towing. Also keep in mind that if you're an avid boater, you can back that baby up into the water and still keep your chassis bone dry.
Things to Double Check
If you're buying a lifted truck from Carl Black Hiram, you can trust that we are providing an immaculate vehicle that has withstood our comprehensive vehicle test. But if you're buying from another dealer or are simply a stickler for the details in your perfect truck, there are a few key areas you should look into before making the purchase.
The first detail to look into, and a very easy one at that, is the level of the headlights. When a truck's suspension is adjusted, it can be easy to slightly skew the level of the entire vehicle, resulting in your headlights pointing in the wrong direction. Be sure to try them out or ask your local salesman so you can keep your lights on the road and not up in the trees hunting squirrels.
Be sure to ask about the speedometer and odometer on your lifted truck. When a truck drives with wheels that are much larger than the stock components it was designed with, the speedometer, and consequently, the odometer can be skewed in their readings. Make sure these instruments have been recalibrated to properly reflect the updated features of your new vehicle. This is not only a matter of safety, but also having an accurate depiction of the miles on your vehicle now and into the future.
The next step is to look very closely your lifted truck's brake system. After installing larger tires onto the vehicle, the extra wear and tear of these monsters can have an extreme effect on the brakes. Make sure the used vehicle you're looking at includes high-performance or larger brake pads. If it does not, many companies offer products made specifically for this purpose.
The last important thing to keep an eye out for is the suspension of the truck. Now that your vehicle is way up high, it is crucial that it contains longer shock absorbers. If the truck is raised with the stock suspension still in place, the force of the truck coming down could bottom out the suspension and cause extreme damage.
Why Buy Your Truck Already Lifted?

Now that we've looked some of the more important characteristics when buying a lifted truck, let's dig into the points of how a truck is lifted and why choosing a trusted manufacturer like Carl Black Hiram is the right choice when making your purchase.
First, let's talk cost. It goes without saying that buying a new or used truck alone will set you back a pretty penny, especially if you have a taste for some of the finer and fancier models. Now that you've given your down payment and locked into your monthly payments, it's time to start thinking about the costs of lifting your truck. Although some lift kits can be purchased for as little as $50, most of the nicer kits on the market will run you anywhere from $500-$2500. Now after you purchase the kit, there is the decision of paying a mechanic a hefty installation fee or taking on the endeavor for yourself.
Unless you're a seasoned mechanic, this may sound a bit overwhelming for you. The thought of paying a fair amount of additional money and then taking on the installation process is a large undertaking. Especially considering all of the previous things we've just discussed that can go wrong on a lifted truck, the utmost attention to detail is critical at every point in the process.
If this does all sound a bit overwhelming, delegating these stresses to a trusted dealer may be your best option. At any trusted truck dealership, a team of experts will oversee every step of the installation process to ensure that every lifted truck for sale is in impeccable shape and up to the utmost qualities of standards. You can also rest assured that any used lifted trucks for sale won't be resold without an extensive and comprehensive inspection.

Carl Black Hiram The Best Choice For Lifted Trucks For Sale!
Here at Carl Black Hiram Auto Superstore, we pride ourselves on offering over 100 pre-owned vehicles from a variety of different brands at any time. Regardless of what you need, we offer vehicles ranging from family-friendly sedans to the most impressive lifted trucks for sale in the Hiram area. Our team of highly qualified technicians and mechanic provide a comprehensive inspection of every car on our lot, ensuring that you are leaving here with the best possible vehicle and value for your money. Come check out our impressive selection of lifted trucks today to find the right one for you and leave our lot riding high.