Used Car Lots
Save Time and Money by Visiting Your Local Used Car Lot
Are you shopping for a vehicle on a tight budget? Well, there's no reason to fret, as pre-owned vehicles are perfect choices. Before you head out to your local used car lots, see why you're about to make the right decision. Then, see why you should be making your upcoming purchase at Carl Black Hiram.
Why Carl Black of Hiram?Apply for FinancingShop Our Used Car Inventory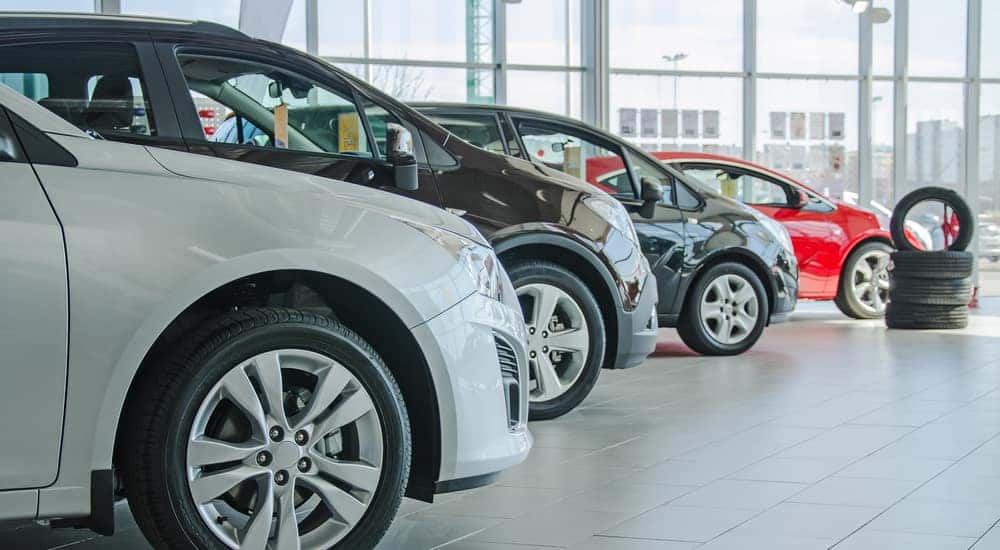 Why Used Cars?
Customers may naturally ignore used vehicles, but they're perfectly logical options, regardless of your budget. Explore the various incentives that accompany the purchase of a pre-owned vehicle.
Financial Incentives
The monetary benefits of pursuing a used car are relatively obvious, but they're still important to emphasize. Plus, there are some additional money-focused incentives that customers may be ignoring as they're comparing new vehicles and used vehicles.
For starters, used cars are less expensive than their new counterparts, we all know that. However, every aspect of your used car purchase will vicariously see this effect. For instance, the monthly payments will be cheaper, the down payment will be less money, and the accompanying insurance rates will be reduced. There are also fewer taxes, and the registration fees also tend to be less expensive.
It goes beyond that, however. Normally, customers would have to dish out some money if they wanted a luxury feature included in their brand-new vehicle. Well, by opting for a used vehicle, these amenities may fall right into your lap. Sure, you'll have to dish out some extra money if the used car is equipped with some pricey, can't-miss feature; more likely, you can capitalize on features like sunroofs or climate control systems without paying an extra dollar.
We should all be aware of the monetary benefits of pursuing a used vehicle instead of a new vehicle. However, these various incentives may have been more significant than you initially thought.
Investment
New cars tend to be one of the worst investments you could possibly make. The vehicle drops in value the moment you drive it off the lot, and the car's value continues to drop at a steep rate through the first few years of ownership.
However, by opting for a used vehicle, you won't have to tolerate this depreciation. This is already partly reflected in the price tag, but it could also be reflected in the car's future resale value.
Take a new car, for instance. If the vehicle sold for around $25,000, then you can bet the nameplate won't fetch a whole lot more than $14,000 after several years on the road. However, the car won't be losing half that corresponding value over the upcoming few years, explaining why you should be taking full advantage of the opportunity.
Would you rather be the car buyer who's losing more than $10,000, or would you rather be the car buyer who's losing half that much? We'd say the choice is pretty obvious.
Condition
This might sound a bit silly but stick with us. Used cars certainly aren't known for their condition and reliability. After all, these vehicles had previous owners, and they've already been on the road for several years. In other words, there's no guarantee that the vehicle will last all that long, it's a bit of a risk.
For starters, you should be throwing that preconceived notion right out the window. While that may have been noteworthy more than a decade ago, the cars that you'll find on today's used car lots (including Carl Black Hiram) are more than trustworthy. After all, these dealerships consistently assure that their inventory is road-ready, and they'll usually provide an assortment of warranties that will ultimately protect the customer.
If you're still a bit wary, you could decide to opt for the often-overlooked certified pre-owned vehicles. These cars have already gone through an extensive inspection process before they've even hit a dealership's lot, as the seller or car brand will assure that the car has hit every single aspect of their pre-sale checklist. If you're someone who tends to be a bit skeptical about pursuing a used ride, then these options are surely something that you should be considering.
Options
You might be skeptical about this advantage, but this sentiment revolves around the general mindset of a prospective car buyer.
Generally, when customers are shopping for a new car, they'll tend to focus in on one particular model. At the very least, they'll narrow down their list to a particular brand, which slightly limits their options. Sure, we understand that this hypothetical customer probably did their research, thus explaining why they landed on this particular target. However, by having such a narrow focus, they may find that they're missing out on some particularly logical targets, and they'll surely miss them if they're only pursuing a particular nameplate.
However, you might not be as focused on a particular vehicle if you're opting for a used ride. Sure, you may be operating on a budget, and you probably have some kind of idea regarding what type of vehicle you're going to opt for. However, by keeping your options open when it comes to brands and models, you'll be improving your chances of landing on an unmatched, can't-miss deal.

Why Carl Black Hiram?
No one looks forward to the car-buying process, but Carl Black Hiram wants you to enjoy the journey. See why this Hiram, Georgia dealership is the best place to make your impending purchase.
Inventory
You certainly won't be lacking for choices when you visit Carl Black Hiram, as we are fully stocked with a number of logical used targets. We also sells certified pre-owned vehicles, providing options for any types of car buyers.
Predictably, we are also fully stocked with a number of new vehicles. Add in our competitive, unmatched prices, you'll be hard pressed to find a more enticing car-buying process elsewhere.
Services
Carl Black Hiram does a whole lot more than sell a customer a vehicle. Rather, we offer an array of services that will come in handy during every stop of your car-buying and car-owning process.
The finance department is willing to work with the customer to figure out a financial plan that makes sense for both sides. We also won't turn away anyone who's bogged down by a poor credit score; if you're looking for a vehicle, than you've come to the right place.
Meanwhile, the service department will assure that your vehicle is fully prepared for the road. Whether you're looking for simple maintenance or some drastic repairs, why not turn to the experts? While you can't always trust a private mechanic, you can rest easy knowing that Carl Back Hiram has your best intentions in mind.
Convenience
We all understand that the car-buying process can be an ordeal, but you won't have to stress when you visit Carl Black Hiram. That's because our convenient hours means you'll always be able to find an opportunity to visit the business.
The sales department is open Monday through Saturday until 7 pm, meaning you can easily visit after work or during the weekend. The service and parts department is also open six days a week, including starting at 8 am during the workweek.
Best of all, our dealership and used car lots are easy to find. Located off Highway 278 in Hiram, Georgia, you can expect an easy-in, easy-out experience when you opt for Carl Black Hiram.