Used Hyundai Palisade Hiram, GA 

The Hyundai Palisade is a large SUV with some premium trim levels. This model is very spacious inside, making it a great option for carpoolers and families, especially families who like to road trip or take a lot of gear. It offers all-wheel drive, so you can depend on it to maintain traction in slippery situations. Specifications will vary by model year, but you'll be impressed with its efficient fuel economy, which is rated at up to 27 mpg on the highway for 2023 models. Keep reading below to learn about some of its best features. 
---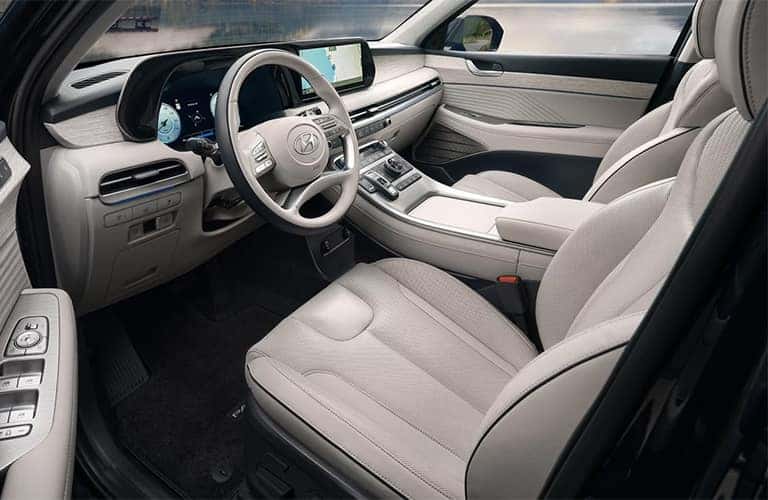 ---
Pre-owned Hyundai Palisade models are available here at Carl Black Hiram in Hiram, GA
Feature availability will vary by trim level, so let us know which features your favor, whether it's remote start, all-wheel drive, or any other modern amenity that you have to have in your next SUV. The Hyundai Palisade offers just about everything, including parking assist and a head-up display. The feeling inside this vehicle is that your every need and desire has been thought of and made possible. Technology truly is a wonderful thing. 
As we've mentioned, the Hyundai Palisade is a great vehicle for a busy family. Some models offer roof rails that can be utilized for even more cargo space. For instance, you can get accessories to hold your outdoor gear on your vehicle's roof, or you can tie down objects as needed, like your family Christmas tree. You'll find that both the passenger space and cargo space exceed your expectations.  
The best way to know for sure if the Hyundai Palisade is the vehicle for you is to check out our online inventory and schedule a test drive. Our inventory will let you know the pricing for our used Hyundai Palisade models as well as more details about specifications and features. When you come in for a test drive, you can ask any questions you still have about this model and try out some of its best amenities for yourself. If you want a specific trim level, you can check back until we have it or contact a team member for help locating one.  
---
View our used vehicle inventory
---