Atlanta Used Cars
Are you looking for a used car in Atlanta? If so, you're in luck. Carl Black Hiram is one of the best dealerships to buy a used vehicle from due to our years of experience, dedication to customer service, and quality used inventory full of options fully inspected and serviced. If you are looking for a way to buy a used vehicle without the typical hassle and risk that come with the territory, Carl Black is the way to go.
We take a different approach to helping our customers find a used vehicle in Atlanta than other dealerships. This all starts with the treatment you will receive the moment you step through our doors. As one of the best dealerships in the state of Georgia, we can outpace our competition time and time again because of the time and dedication we give you every step of the way towards buying your next car.
In fact, Carl Black Hiram is an automotive superstore solely focused on used cars. That means we won't try to push new, more expensive options on you when you step through the doors. Instead, we will take the time to listen to what you need out of the new vehicle and then match you up with the perfect option in our existing inventory.
We have so much to offer that we are confident in being able to meet every single one of your needs if necessary.
Why Carl Black of Hiram?Used CarsSpecials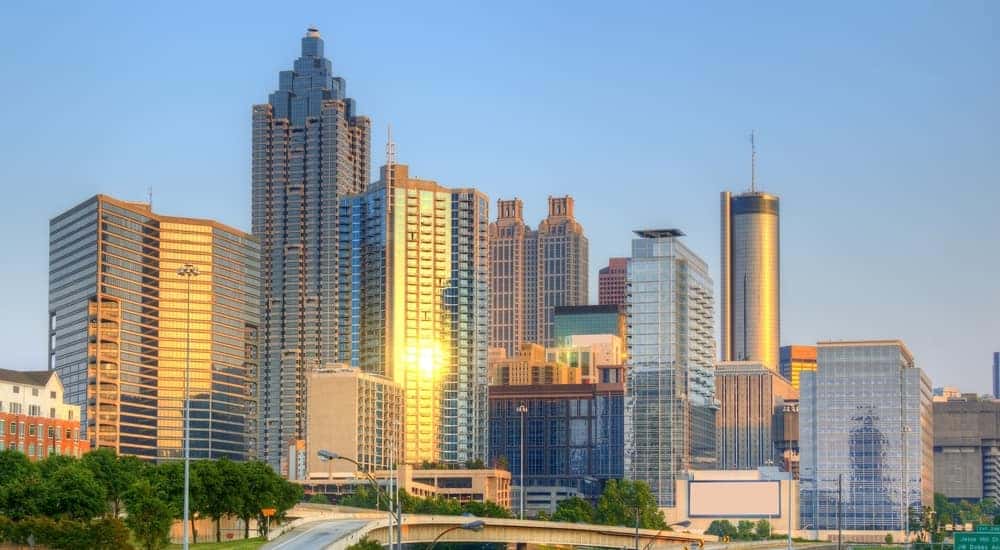 The Auto Superstore
One look at our dealership or website will let you know that we do things a bit differently compared to the competition. While many dealerships have a small chunk of their inventory that is dedicated to used options, we solely focus on new car alternatives that all run well, saving you some money.
We pride ourselves on the idea of having the best-used car inventory around. This is because we take the time to check out every single individual vehicle that comes onto our lot. We also price these vehicles competitively, so you are guaranteed to save some money compared to other new and used dealerships.
Most importantly, we are more than just a dealership. As an auto superstore, we have anything and everything under the sun in terms of automotive parts, accessories, and service. If you need some work done, we will get you set up with a dedicated and skillful mechanic who can help with all of your automotive maintenance and repair needs. We also find ways to give you deals, discounts, and promotions to save even more money on repairs that would otherwise be extremely expensive.
An Unparalleled Used Inventory
Typically, when you're looking for a used vehicle, it can feel like there are slim pickings available to you. You have to either search online using nationwide databases that offer you results far from your location or check out every single dealership nearby to see what is on the lot that particular day. Quite often, you will also be bombarded with attempts to sway you towards a new, more expensive vehicle instead of checking out used options.
Carl Black is fully focused on new car alternatives, meaning our inventory is exclusively made up of great used and previously leased options for you to consider. That doesn't mean our inventory is full of old junkers, however. In fact, you'd be surprised just how many new or mostly new vehicles we have in stock.
A large chunk of our inventory comes from new car centers located in Orlando, Roswell, Nashville, and surrounding areas. We also bring in leased and new factory vehicles straight from the likes of General Motors. Regardless of how new or old the vehicle is, one thing you can count on is the savings you will experience. Our prices are some of the most competitive around, used or otherwise.
The best thing about our existing vehicle inventory is the number of possibilities that we can offer you as a customer. Even though you may be looking for a used vehicle, there's still a wide range of different types of models, trims, and capabilities/features that will meet your needs better than others. With an expansive inventory like ours, you can see what types of vehicles are available all in one location to find that perfect fit no matter what.
Beyond the Vehicles
As an auto superstore, we have much more to offer than just the inventory that we generate. There are several different services that we can offer new and existing customers to make the overall car buying experience even better. This includes additional help, access to unique parts and accessories, and an overall dealership experience you won't find anywhere else.
Everything about the Carl Black Hiram experience starts with our approach to customer service. We like to think we do things a bit differently than other auto part stores and used car dealerships. More importantly, we take every step we can to make your experience, unlike anything our competition can offer you. Just think about the typical used car lot experience as a good comparison. Service staff rarely make you their top priority. At best, they may be juggling several different customers around at the same time. At worst, the sale itself is the most important thing. Either way, you are rarely likely to get your needs met in one go.
With Carl Black, all of that changes. We offer a number of services that all have one thing in common: you are the most important priority. Making you satisfied with our products and services is the way we run a successful business. When you feel like we care about what you need, you know we mean business.
For servicing and mechanic needs, come on down to get your vehicle serviced with us today. We employ many skilled auto mechanics familiar with a wide variety of makes and models. They can quickly diagnose issues with your vehicle and get repairs made automatically without requiring you to come back time and time again to the dealership.
To afford a new vehicle purchase, come work with our financing department. With used vehicles, it can be difficult to find a good, competitive loan to afford the car of your dreams. With our financing department, however, we make things as easy as buying a new vehicle. Sit down with one of our financing staff, share some basic information on your financial history, put together a single application, and wait for the offers to roll in. We use an extensive network of loan providers to pass your application around, encouraging more competition that benefits you in the long run.

Visit Carl Black Today
If you're looking for a used vehicle in the Atlanta area, Carl Black should be your first, and potentially only, stop on the way to buying the car of your dreams. We can streamline and simplify the entire purchasing process for you so you can walk out the door the same day with the new vehicle if you wish. If you're not in a rush, don't worry, you won't feel any pressure from us.
We offer the help and service that you want and need, nothing less. When it comes time to make your next vehicle purchase, make sure it is with Carl Black Hiram. We know how to make your complete satisfaction number one.