How Do I Recharge My Car's Air Conditioning System?

It's always cheaper to repair something yourself, in theory at least. That is, it's always cheaper to repair something yourself as long as you don't make a mistake, making a repair more costly and wasting your own time in the process. With that in mind, we move to a repair topic incredibly popular at the moment, that being car air conditioning systems during the suffering summer heat. One of the most common problems facing vehicle air conditioning systems is the need for a recharge. So, can you recharge your car's air conditioning system AND is it an easy fix you're comfortable handling yourself? We'll explore your options today here at the Carl Black Hiram Auto Superstore!
Bad Car Smells and What They Mean
What Do I Need to Recharge My Car's Air Conditioning System?
A can of refrigerant, along with a hose and gauge (which may be packaged together or separately), can be bought for around $50. However, you can find cheaper or more expensive options depending on your wants and needs in terms of quality. However, we wouldn't recommend cutting corners for a comfortable driving experience. 
Is it Safe to Recharge My Car's Air Conditioning System?
The answer is yes, as long as you know what you're doing. This is the case with any do-it-yourself car repair operation. If you feel confident in your abilities to work under the hood, follow instructions provided by the refrigerant or found online, and follow the necessary precautions while working with/near hazardous chemicals, then recharging your vehicle's air conditioning system is a relatively simple operation.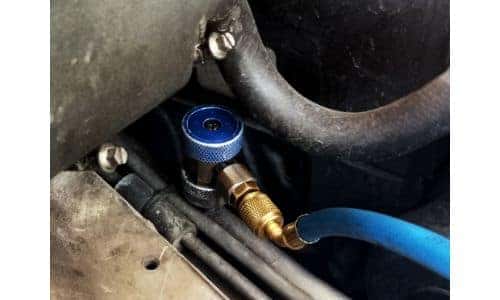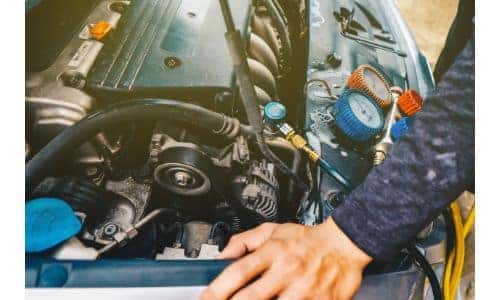 What if Recharging My Car's Air Conditioning System Didn't Work?
Recharging a vehicle's air condition system is a life-prolonging measure for your vehicle, but nothing lasts forever. Therefore, if you've performed the car repair correctly without success, this might mean your car requires more substantial repairs. In that case, we'd be happy to take a look at your vehicle here at Carl Black Hiram. If you schedule an appointment, our service team will provide you with a full inspection and document any issues we find. At that point, it's fully the driver's decision on how to proceed, whether that might be trying to fix the issue on their own, scheduling an appointment at Carl Black Hiram for repairs, or shopping for their next ride from the Carl Black Hiram inventory if the repairs are too costly. 
How Dark Can You Tint Your Car Windows in Georgia?
For additional information and insights, please feel free to contact us at any time. The Carl Black Hiram Auto Superstore is located in Hiram, Georgia within Paulding County and serves drivers in the areas of Rockmart, Dallas, Marietta, Atlanta, and more! We hope to see you soon! Good luck surviving the summer!