Looking For Lifted Trucks For Sale?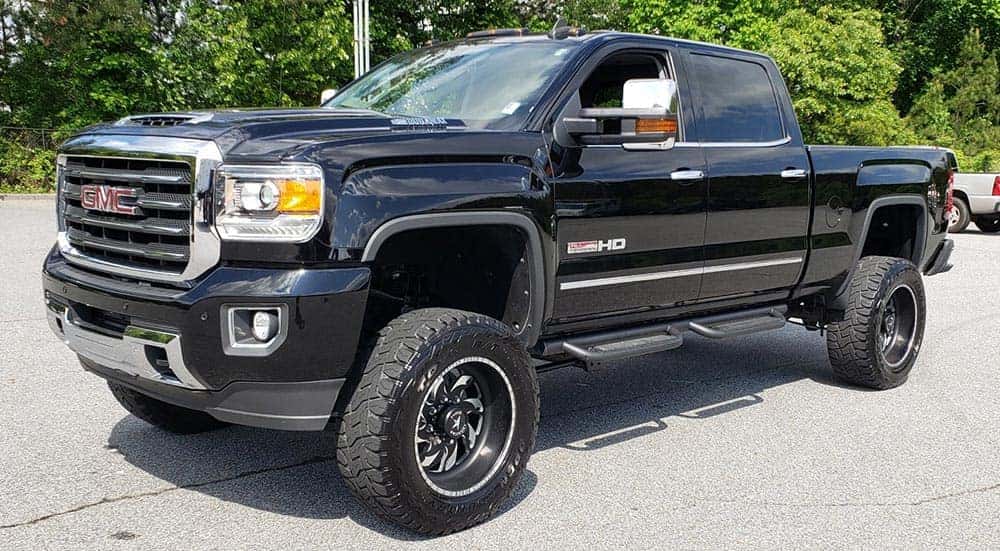 Instead of going through the hassle of buying a DYI lift kit or shelling out big money for a mechanic to have your current truck lifted, take a look at one of the many used lifted trucks for sale from Carl Black Hiram Auto Superstore where we will do the heavy lifting for you for a fraction of the cost.
Whether for off-roading or pleasure, a used lifted truck is the vehicle upgrade you need to elevate your driving experience to the next level, and we here at Carl Black Hiram are one of the few auto superstores with the inventory to cover you on that lifted truck upgrade. Though sometimes lifted purely for aesthetic reasons, these lifted trucks also provide a surprising amount of versatility.
Just Bigger Tires?
There is a huge difference between just adding bigger tires to a truck or SUV and adding a dedicated lift kit.  While adding larger tires is fine for some applications, there are some major limitations to this approach. 
Most vehicles are designed and manufactured around a specific tire size for clearance and safety. Everything from vehicle stability to clearance inside the wheel wells and suspension is based on specific tire size.  Increasing that tires size to gain lift or looks can cause all sorts of handling and interference issues. This is where a dedicated lift comes in to play, allowing you to get the tire size, handling, and performance you are looking for in a truck or SUV.
Lifted Trucks, What's The Difference?
The best way to truly understand the difference between a stock pickup and a lifted truck is to take a look at each lift kit's advantages.
Body Lift Kits:

 
A body lift kit simply raises the body higher up off of the existing frame and suspension allowing for increased tire size without rubbing on fenders and the inside of the wheel wells. 
The advantage – A body lift is decreased cost and the retention of most or all of your factory suspension linkage and angles. With a body lift, there is no need to worry about expensive suspension medications, alignment issues or incompatibility with other driveline components. 
The downside – With a body lift your frame and suspension components have only minimally increased in terms of ground clearance with the increased tire size allowed. All of the suspension components remain the same meaning that there is no increased articulation and only minimal off-road capability is gained.  There is also the issue of increased wear due to larger tire sizes on the stock suspension components.
Suspension Lift Kits:

 
A suspension lift changes out suspension parts for specially designed components that allow for added lift and larger tire size. These specialized components will typically account for the change in suspension geometry and increased wear and tear due to the larger tire size. 
The advantage – A suspension lift is designed specifically for larger tires and rough conditions.  The durability of the components takes into consideration the abuse off-road enthusiast will put these products through and build a product specifically designed to take the abuse.  Additionally, suspension geometry is also corrected and enhanced with a suspension lift, as they are engineered for a specific vehicle.
The downside – Suspension lifts are typically more expensive to purchase and also have a higher cost to install due to the difficulty.  While a suspension lift certainly is the most high performance out of the two options, depending on the tire size desired a body lift or modifications of the fenders and wheel wheels may still be required.
Off-Roadin'
If you are in the market for a lifted truck or Jeep, chances are you have been spending time at the local trails navigating some tough terrain.  Having a vehicle spec'd out to meet your needs and the demands of off-road abuse is key. 
Driving a lifted truck is the best and only way to reach those untouched spots in nature you only see in the magazines; a lifted truck improves the overall performance with greater suspension and higher travel clearance. The body and undercarriage of the truck is better protected in a lifted truck, meaning that it's less likely to collide with the ground surface and underbrush. Now you may be capable of navigating rough, uneven surfaces with less of a chance of the undercarriage striking the ground or any object you decide to drive over.
In addition to the added protection offered, a lift kit and larger tires also offers the ability to navigate far more difficult terrain without getting stuck or hung up or larger obstacles.  Depending on the severity of the terrain, further modifications can be done to a lifted truck or jeep to allow added articulation within the suspension such as sway bar disconnects.  Modifications like these allow the vehicle better performance off-road while remaining safe to drive on the road.
Selecting a lifted truck specifically for off-roading is a little more involved and will be a bit more expensive in the long run.  Consulting a dealer that specializes in trucks like this can go a long way into making sure you get your dream rig instead of someone else's mistake or issues. 
Just For Show
Maybe you're not looking to take your lifted truck off-road and you're just looking for a custom truck to match your personality and lifestyle – perfect!
Buying a truck that already has a lift installed saves you the time and hassle of having to buy a lift and paying to get it installed and allows you to enjoy just owning or further accessorizing your truck to meet your needs.  Go ahead, pick out that set of upgraded wheels and tires, shop for that new stereo system, or add that tonneau cover, the hard and most expensive part (the truck and the lift) is already done.  You have a vision for what you want your truck to be, buying a truck with a lift already installed helps you get there that much easier!
Before you go shopping for a lifted truck anywhere, make sure you buy from a reputable dealer!  Adding a lift can cause serious safety concerns and well as affect the value of your truck if done improperly.  Trying to save a few dollars by shopping through online ads and private sells, you could be making a huge financial mistake.  Suspension or body modifications done improperly and could cost thousands to return a vehicle to a safe driving condition.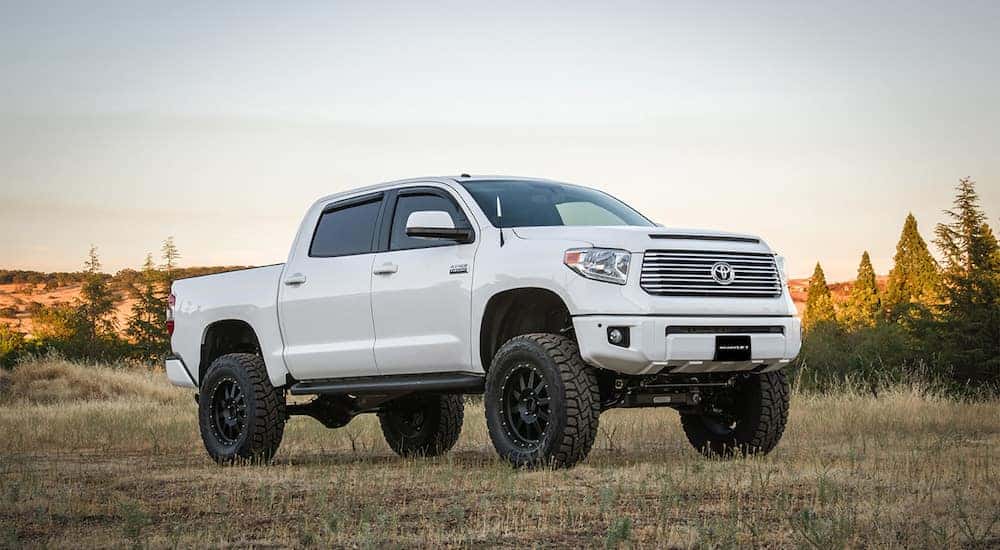 Save Big When You Let Us Do The Heavy Lifting
At our showroom in Hiram, GA, we carry over 100 pre-owned vehicles from many different brands. Our inventory sources from our new car centers in Orlando, Kennesaw, Roswell, and Nashville, as well as lease turn-ins and factory vehicles from GM Financial, Ally Financial, and General Motors. New trucks lose about 20 percent of their value the moment they are driven off the lot, and a used lifted truck generally is priced significantly less than a comparable brand-new unit. You can save big on the depreciation hit when you choose to buy a pre-owned lifted truck at Carl Black Hiram Auto Superstore.
Let our experts here at Carl Black Hiram help you buy the perfect lifted truck for your needs no matter what they are.  Our professional sales team knows how to help you find the perfect vehicle for your budget and needs.