Questions To Ask A Used Car Dealership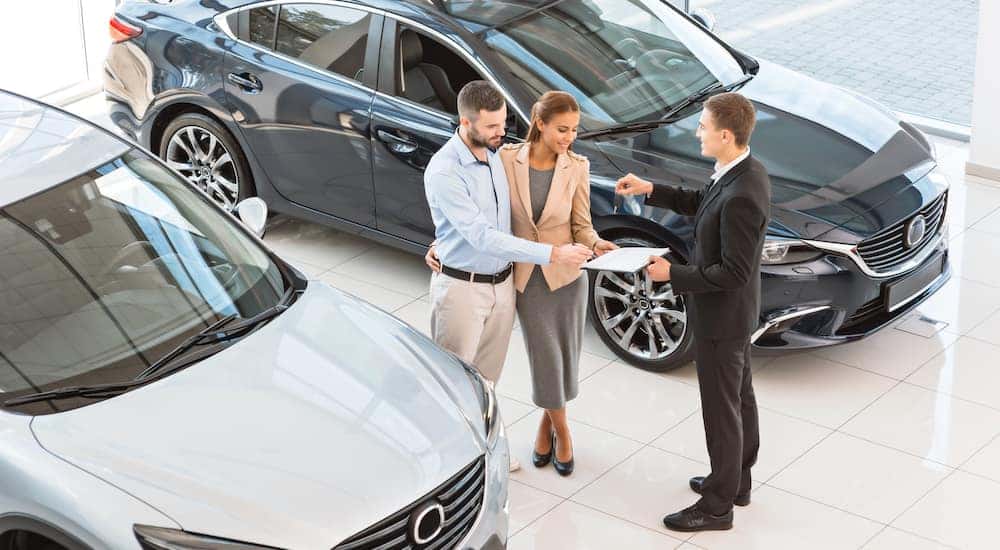 Buying a used car can be a risky endeavor. The feeling alone of not knowing what you are getting yourself into can be scary. This is why so many people prefer buying new over used in the first place. If you can avoid the risks that come with a used vehicle, you won't have to face the possible frustration that comes with the used territory.
Unfortunately, avoiding used vehicles is not always the smartest decision. While there are risks involved, there are also many possible benefits that can outweigh such risks. In fact, millions of people buy a used vehicle each year without issue. In doing so, these individuals often save more money and get more vehicle at the same time. It all comes down to the type of vehicle you look at.
Things like its history, age, upkeep, general use, and more all determine how good of a candidate a used vehicle may be. Going to a used car dealership is the best route when looking for a used vehicle since it helps to have different options to consider. This way, you will get a variety of vehicles that come in different conditions and ages to check out, increasing your chances of finding the right one.
The best way to do this is to visit a used car dealership. Unlike checking out Craigslist or local ads, going to a dealership will present all the possibilities at once. You will be able to physically walk around and see the different used models in person. This will allow you to visually inspect and test drive models you are interested in right then and there.
The next time you visit a used car dealership like Carl Black Hiram, there are a few questions you should ask to increase your chance of success. Here's a brief list of some simple questions that will help you get on top.
Where do the cars come from?
It is a common myth that all used vehicles are simple trade-ins from previous owners. Anytime someone wants to upgrade or buy a new car; it makes sense to trade in their existing vehicle if it is no longer needed. This way, the price of the new car is decreased by the value of the old.
In reality, many used car dealerships only have a fraction of trade-in vehicles in their inventory. This means their used cars and trucks can come from a variety of other sources. For example, auctions tend to be a popular source for used vehicles. Dealerships will participate in local auctions to buy cars at a fraction of the cost of a trade-in.
Unfortunately, most used car dealerships will not disclose the origin of a particular vehicle unless asked. Asking this question is extremely beneficial since it gives you a better idea of the car's history. If you have access to something like a Carfax report, you may even find this information automatically.
What is your certification process?
One thing that is unavoidable when it comes to used vehicles is the unknown. Mystery issues and hidden problems can plague new vehicle owners when they don't take the steps necessary upfront to determine the condition of the vehicle. Sometimes, it is impossible to learn every little detail about its condition. More often than not, however, there is more to learn by asking this simple question.
You can ask this question to any car dealership that advertises a certain certification process for their used vehicles. In most cases, the dealership will either answer the question upfront or give you promotional materials that spell out the different inspection points included. It is up to you to decide if the inspection process feels good enough to give you the confidence when buying a vehicle from that dealership.
Confidence is important when it comes to buying a used car. If you don't feel comfortable with the purchase, your gut maybe trying to tell you something. A good inspection process and plenty of research on your part ahead of time will increase this level of confidence. In other words, take as many steps as possible to feel good about a used vehicle you are interested in.
What Kind Of Test Drive Can I Take?
Some people don't realize that used vehicles at a car dealership are just like new models: you can test drive them. If a used car dealership does not let you take a lengthy test drive, it is best to avoid them at all costs. A good test drive is the only way to really experience the condition of a used car. Beyond the visual inspection, a test drive can also reveal hidden issues through unnatural sounds and handling characteristics.
Ask the dealership what kind of test drive you can actually take. You may be limited to a certain route that takes a specific amount of time. If possible, however, find a dealership that will give you more freedom in your test drive. Having a couple hours to take your own route is most ideal.
Are There Any Warranties?
Depending on the age of a used vehicle, warranties are a tricky subject to approach right off the bat. Older vehicles beyond the five-year mark will usually be out of the warranty coverage period. This will largely depend on the specific make and model of the vehicle itself.
If you want a vehicle that still has the initial basic and drivetrain warranty, restrict your search to just vehicles that are a couple years old. Any vehicle within the current generation of the model is a good place to start.
If you want to maximize your savings with an older vehicle, try to find a dealership that includes some kind of extended warranty option or has some certified pre-owned options to consider. These vehicles will have extended warranty straight from the manufacturer.
Finding Used-Car Success
Asking questions and taking additional steps beyond just finding a perfect used vehicle is important to finding ultimate success. This success is never guaranteed, but the more you research and ask questions up front, the better. As a customer, you have a lot of power when it comes to the dealership and vehicle you choose.
Don't hesitate to ask the hard questions to any dealership. At Carl Black, for example, we are more than happy to give you the information you need to feel confident with us. Your satisfaction is our number one priority regardless of what you are looking for.
Check us out today by visiting our dealership or website to see what we have available in our current inventory.