Used Cars for Sale in Atlanta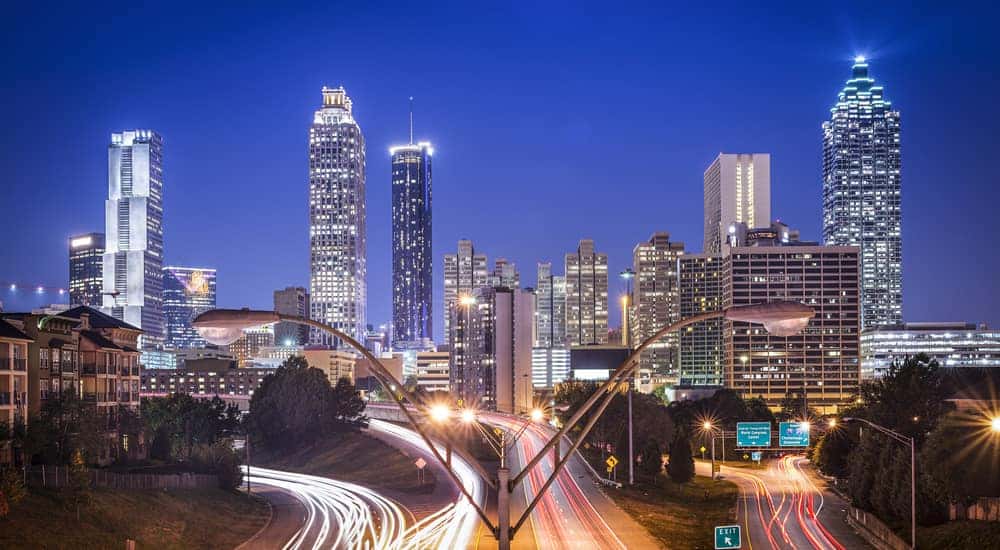 We have all seen the commercials for brand new cars. All makes and models, all body types and trim levels for the latest year are available now. And they will be next year, too. And the year after that. Automobile companies will never stop turning out new and improved models of cars, trucks, and SUVs. Atlanta area residents have no shortage of new car dealerships to choose from. But, what about used cars for sale in Atlanta and the Atlanta area? Well, we've got those covered, too.
More than 70% of all cars sold annually in the United States are used or certified pre-owned. That's a massive market share in a multi-billion dollar industry. Fortunately for those looking for used cars for sale in Atlanta, Carl Black Hiram Auto Superstore has more than 100 used cars for sale, from all makes and models. Whatever car will best fit your driving needs, we've got it.
Not all drivers are looking for the newest in automotive innovation. Some people are limited by funds. Some are looking for a reliable second car and don't feel the need to spend top dollar on something that will not be an everyday vehicle. Some may have teenagers that are just starting to drive, and would rather not place them behind the wheel of a wheel of a brand new car. And some just want to find the best value possible in their daily driver. If you fall into one of those categories, we invite you to take a look at just a few of the used cars we have here at Carl Black Hiram Auto Superstore. When you are done reading, head on down to our showroom and get a look at all the vehicles we have in stock.  Below are just a few examples of the types of used cars we have for sale at our store just outside Atlanta.
2015 Nissan Altima S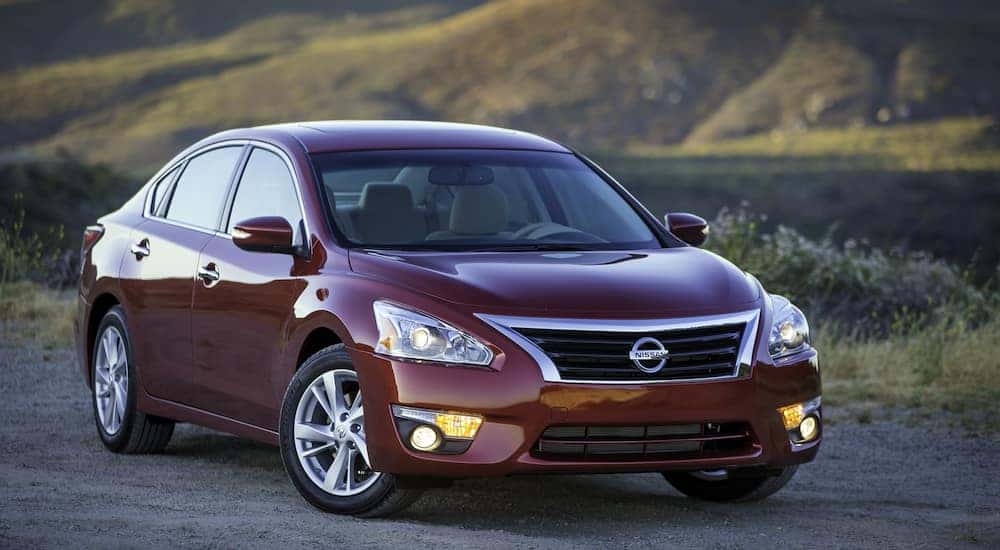 This sedan features an inline four-cylinder, 2.5-liter engine that can get up to 152 horsepower. That is plenty enough power to move around the Atlanta traffic. It can also get up to a whopping 38 miles per gallon on the highway in its 18-gallon tank, meaning you could go a pretty long time between stops at the gas station, depending on your driving habits. This vehicle also features stability control. Stability control helps to return the car to a straight and steady path if it were to start veering a little bit, as in you had to swerve to avoid hitting something. This could be a potentially lifesaving safety feature for an inexperienced driver.
2016 Toyota Camry SE
One look at this car and you will see why the Toyota Camry is one of the best-selling models in world history. This model also features an inline four-cylinder, 2.5-liter engine capable of 152 horsepower. It gets an estimated 35 miles per gallon on the highway. This is yet another fuel-efficient vehicle, designed to keep gas expenditures down. This 2016 Toyota Camry features a backup camera. This allows the driver to view any and all objects that may come into contact with the rear of the vehicle while backing up. A tiny camera mounted near the license plate relays video to the dash monitor and keeps the driver from potentially striking anything that may be in the rear path of the Camry. This is useful not only in driveways but urban areas where pedestrian traffic is high.
2015 Ford Taurus Limited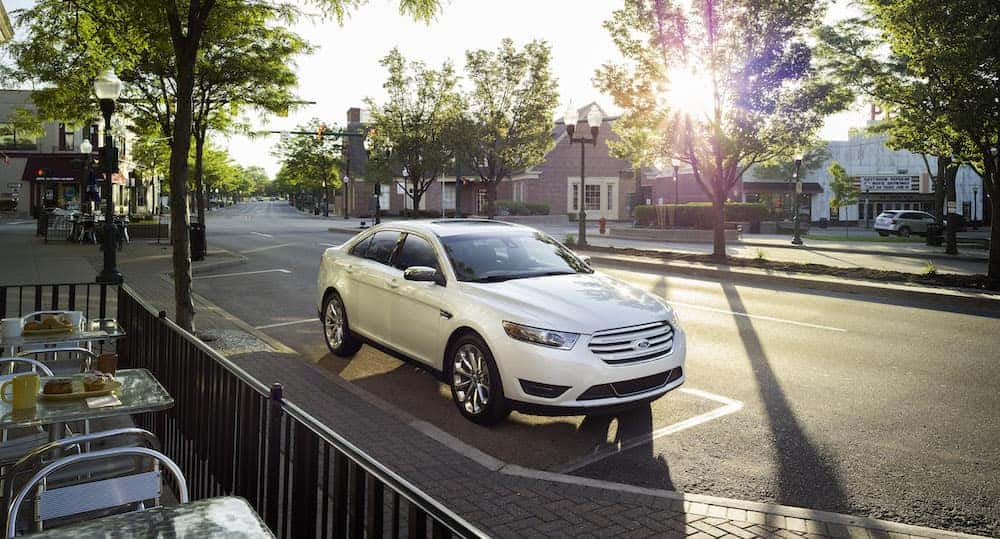 The Limited trim level is one of the higher-end trim levels offered by Ford, and this vehicle has the goods to prove it. Under the hood, you will find a V6 3.5-liter engine that can get a very respectable 213 horsepower. That is more than enough giddy-up to get you around the racetrack that is I-285. It also gets an estimated 29 miles per gallon highway. The infotainment package in this Taurus is what really sets it apart from the crowd. The instrument cluster features two 4.2 inch displays, customizable to each driver of the Taurus. It also features an 8" LCD monitor in the center stack, audio/video input jacks, an SD card reader and two USB ports. Whatever device you bring along with you can be input into the Camry's infotainment center for instant access. It may be your own music playlist, favorite podcast, book on tape or personalized navigation. Additionally, with a subscription to SYNC, you get access to news, navigation, turn-by-turn directions and much more, all courtesy of Google.
2014 Mercedes Benz CLA 250
At some point, most everybody wishes to drive a Mercedes Benz. They have long been considered a leader in class and elegance in the automotive field, and their 2014 Mercedes Benz CLA250 is no exception. Boasting an inline four-cylinder, 2.0-liter engine with 121 horsepower, this car can get you wherever you need to go with style to spare. And at 32 miles per gallon on the highway, it can do so without too many fuel-ups. However, Mercedes Benz is more than just a pretty face. They care about the safety of their drivers. As such, this car comes with multiple safety measures, not the least of which is Forward Collision Mitigation. With this feature, the Mercedes can help apply the proper amount of brake pressure if its constantly working radar sensors indicate there is an impending collision. It adds pressure to the brake pressure you are applying, bringing the car to a stop much faster. It also features Front and side airbags for the first row and curtain airbags for the first and second row of passengers. Clearly, Mercedes Benz cares about its drivers.
Carl Black Hiram Auto Superstore – Your Bet For Used Cars For Sale in Atlanta Area
Here at Carl Black Hiram Auto Superstore, we know that not everyone who goes car shopping is looking to peel the tag off a brand new vehicle. Some people need used or pre-owned cars, for various reasons. Whether you have a teen driver that you are not ready to put in a brand new car, need a second vehicle or don't want to spend top dollar on a new automobile, Carl Black Hiram Auto Superstore has just the right used car for you.
These four vehicles we looked at are just a small sample of the more than one hundred used cars we have available. Stop by our place on Jimmy Lee Smith Parkway in Hiram to see all of our used cars available. Our sales staff is committed to getting you in exactly the vehicle you need. Our finance team will walk you through all the steps of financing a new (to you) car, whether you are leasing or buying.  We also have a trained and professional service staff that knows the ins and outs of all of our vehicles and can set you up with a maintenance schedule that will keep your car on the road for years to come.
We look forward to seeing you at Carl Black Hiram Auto Superstore. If you can't get down right away, check out our inventory in our online showroom. It is open 24 hours a day. We will see you soon!