Where Should I Get My Oil Changed in Hiram, GA?

Benefits of choosing Carl Black Hiram for your oil change
Where should you get your oil changed in Hiram, GA? We can get it done for you here at Carl Black Hiram Auto Superstore. It is important to get your oil regularly changed to keep your vehicle running and to improve its life expectancy. Our professional service team will get it done quickly. Keep reading below to learn about our prices, how to schedule an appointment, and our other services here at Carl Black Hiram. 
Oil change price in Hiram, GA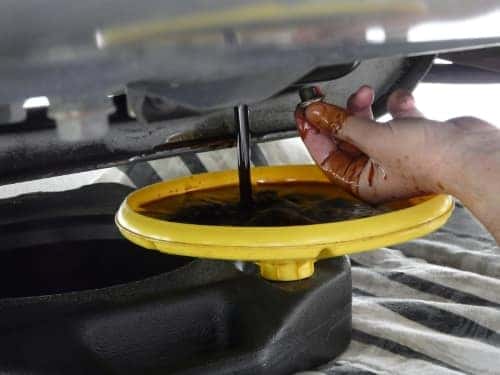 You can find a full list of our repair prices on our website on the Auto Repair Services page under the Service & Parts drop down menu at the top of our site. If you want a Dexos Full Synthetic oil change for up to 5 quarts, it will cost you $39.95. For an additional quart it will cost you $49.95, which is the same price for our Mobile 1 Full Synthetic oil change for Camaro SS or Corvette vehicles. A Diesel Oil Change will cost you $79.95. We recommend scheduling an oil change every 5,000 to 7,500 miles, though it's worth checking your owner's manual or consulting with the service technicians here at the dealership. 
All that said, our regular coupons for vehicle service are one of the biggest reasons why Carl Black ought to be your go-to for oil changes, or any other vehicle maintenance for that matter. We know that car repairs and service are rarely anyone's favorite thing, but we work hard to make this a hassle-free process for you. Part of that effort is keeping things affordable, but we also strive to make sure your vehicle service is done quickly, and most importantly, done right… the very first time.
Need a deal? Check out our current service coupons for convenient savings!
Carl Black Hiram maintenance services
When you schedule your oil change, feel free to schedule other maintenance services as well. You can schedule a free check engine light diagnosis and multi-point inspection using the coupon on our website on the Service Specials page under the Specials drop down menu. Other maintenance that we recommend getting done regularly includes tire rotations, tire balancing, air filter changes, fluid exchanges, and more.  
Moreover, we never want vehicle maintenance to be a surprise, and so we remain as transparent as possible when it comes to the care of your vehicle. That includes our pricing list alongside our available services. We don't want car service to become a financial burden for you, and that's why we provide pricing for many of our popular services right on our website. With vehicle maintenance at Carl Black, you aren't kept in the dark when it comes to something as important as your vehicle's health. Click the link below to view the details.
To schedule your next service appointment, fill out the form on our website under the Service & Parts drop down menu. You can also call our service team to schedule your appointment if that is more convenient for you. You can reach them by phone at (877) 863-6933. We look forward to working with you and your vehicle at your next oil change or service here at Carl Black Auto Superstore in Hiram. Drive safe!