How Do I Make My Vehicle Dog-Friendly?

How to Create a Pet-Friendly Vehicle
Are you a proud dog owner? Does your dog love to take rides in your car? Ours sure do. Outside of walks, dogs love going for rides in the car. They get excited about going to a new place, meeting new people, and sticking their head out of the window with tongue flapping in the wind and tail wagging. However, to be a responsible driver and pet owner, you'll want to make sure that your dog is both comfortable and safe when taking rides in your vehicle. Here's how to make your ride safe and dog-friendly!
Top 10 Car Myths that Drivers Still Believe
Question 1: Can My Dog Get IN and OUT of the Vehicle?
Unless your dog has a disability or is tiny enough to pick up and load in yourself, it should be pretty easy and safe for your dog to get in and out of your vehicle on its own. Vehicles with a low ground clearance/ride height are much easier for dogs to get into. Those with higher ground clearances/ride heights should either have built-in vehicle steps for the dog to use or you can get a small set of steps for your dog to use for getting in and out.  
Additionally, it is also important to keep this question in mind as a dog gets older. Some older dogs will have a much tougher time jumping up or down if the ride height of a vehicle is too high.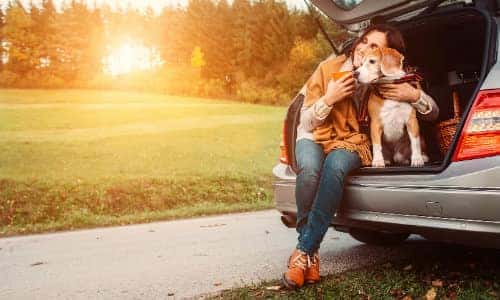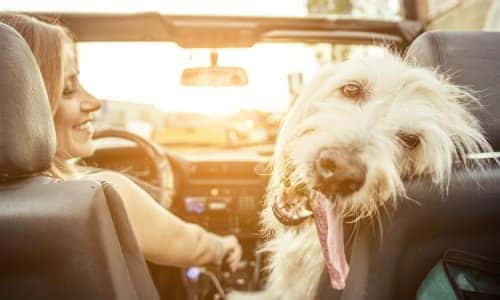 Question 2: Is There Enough Space for My Dog to Sit?
It's much safer for your dog if it is sitting when the car is moving. The problem is, most dogs get very excited and don't want to stay still. However, if a dog is moving around and standing during a trip, sudden turns and stops can easily cause it to trip or fall. So, make sure your dog sits during a trip and make sure it has enough room to sit or lay down. A dog won't even think about sitting down if there are too many passengers or enough cargo in the way. 
For additional safety, it is recommended that you secure your pup with a car seat or harness. Your pet might not like it, but it'll definitely keep it safe and still during long trips, on bumpy roads, and during frightening storms. 
Question 3: 
What Dog Supplies Should I Keep in the Car?
No matter where you're taking your dog, it's good to have a bunch of backup supplies. That includes a water bowl and a bottle (to pour into the bowl), dog toys, dog treats, and cleaning supplies in case your dog has an accident. 
Question 
4
: How Much Does My Dog Shed?
You'll want to know how much your dog sheds, the type of seats, carpets, and mats you have in your car, and how easy your car is to clean. Depending on your dog's breed and behavior, it might leave plenty of fur behind on rides. A good way to keep your car in good condition despite shedding is to put down a blanket or plastic mat for your pet and keep a vacuum or wipes (depending on your seat's material) on hand. 
How to Save Money When Renting a Car
Find More Vehicle Tips & Tricks in Rockmart, GA
How else can you customize your vehicle for your unique riding lifestyle? Check out more vehicle tips & tricks blogs here at Carl Black Hiram and shop for your next affordable ride by browsing through our vehicle inventory. For more information, please contact us at any time. The Carl Black Hiram Auto Superstore is located in Hiram, Georgia within Paulding County and provides pre-owned automotive sales and service to Georgia drivers in Rockmart, Dallas, Marietta, Atlanta, and more!