What to Do if You Get in a Car Accident

What Should You Do if You Get in a Car Accident?
How should you properly act in the event of a car accident? We'll go through our step-by-step guide on how to act after you get in an accident here at the Carl Black Hiram Auto Superstore!
How to Prevent Your Car Battery from Dying
Check for Driver and Passenger Injuries
First and foremost, check your condition and the condition of any passengers in the car. Most importantly, check for any serious injuries. If anyone has any pain from the crash, they should not be moved unless they are being put in any immediate danger by remaining in the vehicle. 
Survey the Surrounding Area
Speaking of danger, make sure to check your surroundings. Are you, your passengers, and your vehicle in a safe position? 
Move Car to a Safe Location
If you are not in a safe location, such as being stuck in the middle of a road, your next immediate step should be to move your vehicle out of danger. If your vehicle is operational, it is recommended that you put your emergency lights on and move your vehicle to the side of the road. 
Check for Driver and Passenger Injuries (2
nd
 Vehicle)
Once you, your passengers, and your vehicle are checked and secured, you should check on the other party involved in the accident. Check to see if anyone is injured, if they need any assistance, and whether or not they've already called 911.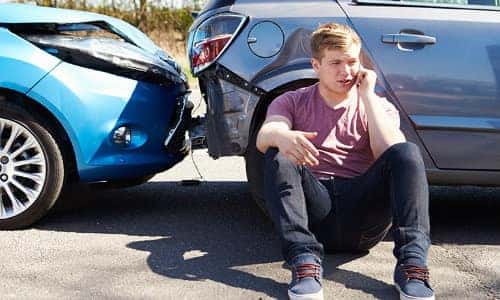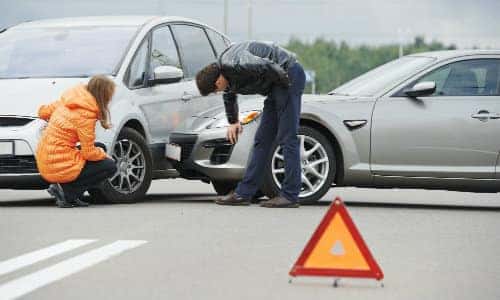 Call the Proper Authorities
Having an accident report filed with the police is important for insurance claims, so whether or not you or anyone has been injured, and whether or not your vehicles are operational, the proper authorities should still be contacted. Contact the police to report the incident and request an ambulance and paramedics if the situation requires them. Once law enforcement arrives, make sure you have your license, registration, and proof of insurance ready to present to them. 
Keep Your Emotions in Check
During every step of this situation, it is very important to remain calm. While a traffic accident can be incredibly frustrating, not having proper control of your emotions during your discussions with the other driver and with the police can land you in much greater trouble in terms of legal issues and/or the law. 
Exchange Insurance
By law, drivers must exchange insurance information in the event of a motor vehicle accident. That information should include your name, address, phone number, email address, insurance company, and insurance policy.
Properly Document the Scene
To avoid further trouble with your insurance, and to prevent any potential false claims made by the other driver, it's important to properly document the scene of the accident. It is highly recommended that you take pictures of the area, the damage sustained by both vehicles, any property damage that has occurred, and other road conditions, such as skid marks, weather, and anything else you think could have been a factor in the accident. 
Schedule a Doctor's Appointment/Urgent Care
Due to an adrenaline rush, many drivers can be injured in an accident and not know it. To be safe, it's important to schedule an appointment with your doctor to get yourself checked over. If you have immediate injuries or signs of pain shortly after the accident, a visit to an urgent care facility is recommended. 
Contact Your Insurance
Lastly, you'll want to contact your insurance to inform them of the accident. Provide them with details and send them any information they require along with the photos you've taken of the accident site. 
How Do I Protect My Car from Summer Heat and Sunlight
Learn More About Road Tips and Tricks in Rockmart, GA
For more vehicle tips and tricks, continue to read our blog and contact us here at Carl Black Hiram in Hiram, Georgia within Paulding County.