Find Pre-Owned Lifted Pickup Trucks in the Hiram, Kennesaw, Dallas and Marietta Area

Where To Buy Used Lifted Trucks and SUVs Hiram GA
Do you love off-road adventures? Do you love mud-slingin' thrills on the weekends? Trail-rated pickup trucks and SUVs that are built for extreme terrain will check all the boxes for adventurers in the Hiram, Kennesaw, Dallas and Marietta area. Drivers interested in taking those adventures to the next level may want to know where to buy used lifted trucks and SUVs in Hiram, GA. The answer is the Carl Black Hiram Auto Superstore.
---
---
What Are the Benefits of a Used Lifted Truck in Hiram GA?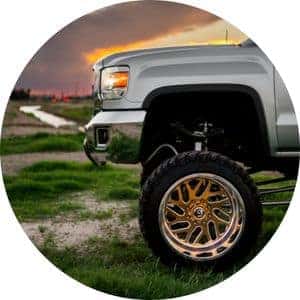 When adventure calls, a lifted pickup truck will provide a wealth of advantages that you will enjoy on the trail. Used lifted trucks at Carl Black of Hiram will add pre-owned prices to that list of benefits, to make unrivaled adventure even more accessible for drivers in the area. Here is a closer look at the benefits of a used lifted truck or SUV at Carl Black of Hiram.
Affordable used truck and SUV prices at Carl Black of Hiram

 

High-strength steel frames add durability to your adventures and extra ground clearance provides more clearance for rocks in extreme terrain and gives drivers a better view of the surrounding terrain.

 

More ground clearance means you can add larger wheels and tires that will provide better traction in snow, mud or sand with added clearance.

 

Improved towing capabilities. Lifted trucks provide better weight distribution and safety when towing, putting less stress on your suspension and shocks.

 

A custom style promises to make you stand out from the automotive crowd.

 
---
READ MORE: What Are the Differences Between Buying a Used Car and a New Car?
---
Take a close look at where to buy a used lifted truck or SUV in Hiram, GA and the benefits with this quick overview created by Carl Black of Hiram. Contact the dealership sales team today to apply for online credit approval and get behind the wheel of your dream car at a dream price!