How Do You Safely Drive Past Semi-Trucks?

Today, we'll be talking about semi-trucks, semi-trailers, semi-trailer-trucks, trailer trucks, transports, trailer-trucks, tractor-trailers, or whatever else you want to call them. With all due respect to semi-truck drivers, most other drivers on the highway don't appreciate the sight of semis. Semi-trucks can take a lot of time to accelerate, have HUGE blind spots for their drivers, and it can feel treacherous to pass them under tough storms and other weather conditions. So, what should drivers do to be safe when driving near semi-trucks? How do you safely drive past semi-trucks?
How to Save Money When Renting a Car
Semi-Trucks – How Big are the Blind Spots and Where Are They?
Every type of motor vehicle has its own share of blind spots. However, with the size and height of a semi-truck and its trailer load, it has a much bigger area of blind spots. When a trailer is attached, a semi-truck has the following blind spots: 
Straight Ahead from Driver's Seat: 
≈ 20 feet
Behind the Vehicle (Rearview Mirror): 
≈ 30 feet
Driver's Side (Side Mirror): 
≈ 
1 Lane / 12 feet
Passenger Side (Side Mirror): 
≈ 
2 Lanes / 24 feet
We hope drivers can use this information to avoid these blind spots (when possible) when driving near semi-trucks. If you NEED to enter one of these blind spots due to traffic or when passing a semi, please be aware that the semi-truck driver won't be able to see you and therefore won't be aware of your presence on the road.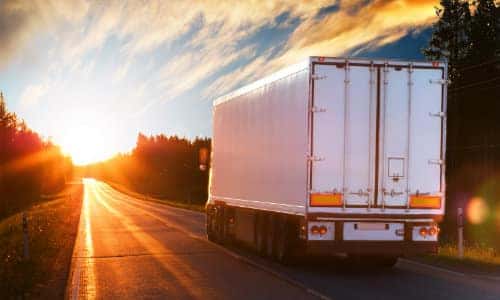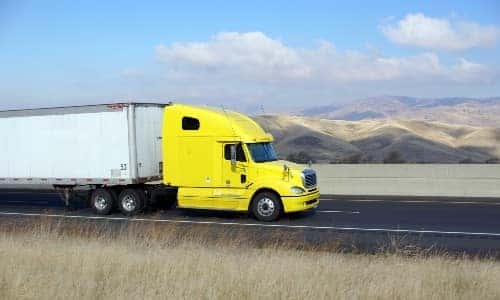 Semi-Trucks – How Much Space Should You G
ive Semis?
In addition to having a limited vision of their surroundings, semi-truck drivers are also operating vehicles that aren't very maneuverable. Semi-trucks are very large and very heavy vehicles, which means they take much longer to speed up, slow down, and turn/change lanes. Don't expect a semi-truck to be able to do what a much smaller car can. 
Due to the fact that they're much slower, it's a very smart and safe idea to give semi-trucks plenty of space whenever possible. If you're too close to a semi-truck when it makes a change, it could result in an accident. 
Semi-Trucks – When is it Safe to Pass
?
Semi-trucks often drive slower than most other traffic on the highway. Therefore, they get passed a lot by other vehicles. However, when is it safe to pass a semi-truck? Before you decide to pass a semi-truck, keep the following things in mind: 
FIRST, consider all traffic. This includes both the semi-truck and other cars on the highway. Check all of your sides and blind spots. You don't want to be so fixated on the semi that you forget about other vehicles and accidentally hit one in your blind spot when changing lanes. 
SECOND, pass a semi-truck quickly. Once you decide to pass a semi-truck, don't take forever to do it. Driving side-by-side a semi-truck on the highway isn't a very safe position to be in, so it's best to get in and out as soon as possible. Safely pass the semi-truck so you can continue your trip on a safer area of the highway/freeway. 
What's the Difference Between a Moonroof and a Sunroof?
Find More Vehicle Tips and Tricks at Carl Black Hiram
To read about more vehicle tips and tricks to survive the conquests of the road, continue to read our blog here at Carl Black Hiram and contact us for more information. The Carl Black Hiram Auto Superstore serves drivers in the areas of Hiram, Rockmart, Marietta, Atlanta, and more, with pre-owned auto sales and automotive service!