Lifted Pickup Truck Models in Marietta, GA

If you're shopping for a pickup truck model here at Carl Black Hiram, might we interest you in a lifted truck? Lifted pickup trucks are just what they sound like, offering a higher cabin ride that creates specific driving advantages. Today at Carl Black Hiram, we'll go over our lifted truck inventory and the advantages of driving a lifted truck model. Shop for your own lifted pickup truck model at Carl Black Hiram in the area of Marietta, Georgia!
Top 10 Camping Accessories for Pickup Trucks
Handling
A lifted frame often necessitates bigger tires. These tires provide better traction while driving, no matter your terrain, whether it be asphalt, mud, or ice.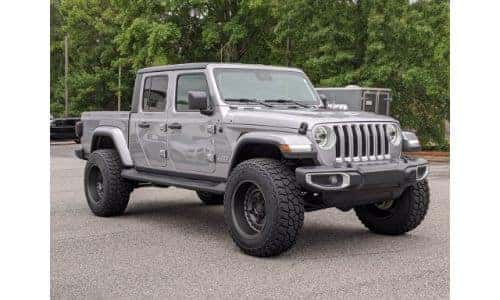 Ground Clearance
A lifted frame and a higher ground clearance should be obvious as the 'lifted' part of a lifted truck. Many pickup truck drivers prefer a high seat in their cabin, and a lifted frame provides an even greater amplification of this experience. Meanwhile, the high ground clearance created by the lifted frame and large tires means it's easier for drivers to avoid damaging debris, whether natural or manmade, on the road, such as rocks, traffic bumps, trash, and more that could potentially cause damage to the undercarriage. 
Towing
While not providing more towing capacity just from being taller, a lifted frame of a pickup truck model puts less stress and pressure on the shocks and suspension of your vehicle. This often provides a smoother and more stable towing experience. 
Online Credit Approval in Atlanta, GA
Learn More About Pickup Trucks Models in Hiram, GA
Learn more about lifted pickup truck models by continuing to read our blog, browsing through our lifted truck inventory to schedule a test drive, and by contacting us. The Carl Black Hiram team can be reached through online messaging, phone calls to our sales department, or with a visit to our store. The Carl Black Hiram Auto Superstore is located in Hiram, Georgia within Paulding County. We serve drivers throughout the northwest Georgia area with pre-owned vehicle sales and automotive service opportunities.