Is It Safe to Leave My Dog in the Car When It's Hot?

Temperature Guidelines for Keeping Your Dog in Your Car Q&A
Cars get very hot very quickly when the weather is hot outside. Dogs, even more than people, are very susceptible to heat stroke. Is it safe to leave your dog alone in the car? Is it legal to leave your dog alone in the car? We're here to answer your questions in order to keep your lovely pup safe and sound!
---
Why You Should Shop for a Used Car
---
How Hot Is Too Hot to Leave My Dog in the Car?
Ideally, you should never leave your dog in the car alone, no matter what the temperature is.
Even when the temperature is mild, another passenger should be left to keep an eye on your pet.
However, let's break down how hot the inside a car gets when compared against the outside temperature.
When it's 70° F outside it takes roughly 20 minutes for the temperature inside a car to reach 100° F.
At 1 hour it reaches 113° F.
When it's 90° F outside it takes roughly 20 minutes for the temperature inside a car to reach 120° F.
At 1 hour it reaches 133° F.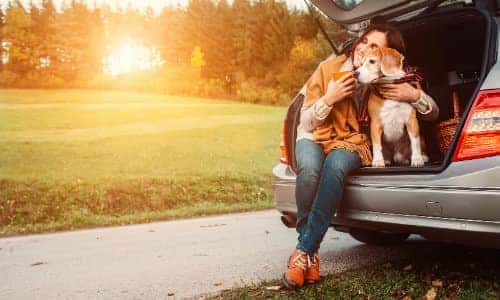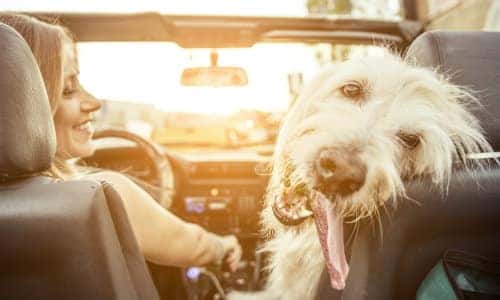 Will My Dog Be Safe If I Crack the Window?
No.
A cracked window changes very little, as the inside of the car heats up at the same rate.
Think of it like being in a sauna with an open window. Your body is still in a sauna.
How Can I Keep My Car Less Hot?
If you must leave your dog in your car:
Park in the shade 
Use sunshades/blankets to block the sun 
Use 2 Keys to keep the A/C running but lock up your car 
Limit your time away to 10 minutes or less 
Bring a bowl of water 
Is It Illegal to Leave My Dog in My Car Unattended?
In many cases, yes.
28 states have made laws restricting owners from leaving their pets unattended in vehicles.
Some of these laws ban the practice while others allow for law enforcement and citizens to break into cars to rescue pets.
Currently, Georgia does not have any laws like these on the books, but the appearance of these laws in so many states speaks to the severity of the issue.
What Should I Do if I See a 
Dog
 Alone in a Car?
If you see a dog left alone in a car during extreme temperatures you should take a look to check the well-being of the dog.
You can call animal control, 911, and, depending on your state of residence, are allowed to break into the car to save the dog's life.
This last step should ONLY be done under extreme circumstances.
---
5 Reasons to Choose a Diesel Truck
---
Find a Pet-Friendly Model in Hiram, GA
Need a model more fit for your dog? Browse through our online inventory here at Carl Black Hiram to find a pet-friendly vehicle with plenty of space and safety. Also, continue to read our blog for more tips and tricks and community events. To learn more, please contact us. The Carl Black Hiram staff can be reached online, by phone, or with a visit to our dealership located in Hiram, Georgia within Paulding County.