AWD vs 4WD: Which Is the Right Fit for You?

What Are the Differences Between AWD and 4WD?
Are you looking for a pickup truck that is ready for action on the trail? Or do you want a capable crossover that will handle inclement weather? We are here to help at Carl Black of Hiram and will help answer the question – what are the differences between AWD and 4WD – with this quick overview.
---
---
How Does AWD Work?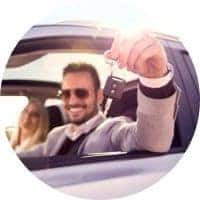 All-wheel drive is a highlight of many cars and crossovers that will distribute power and torque to all four wheels without driver input and is available in full- and part-time systems. Full-time AWD systems employ a series of differentials to deliver power to all four wheels at all times. Part-time AWD systems –also called intelligent or automatic AWD at times – employ sensors that will detect a loss of traction and automatically apply torque where it is needed to maintain traction.
Benefits of AWD
Improved Traction and Acceleration in Slippery Conditions
Improved Performance in High-Performance Vehicles
Easier to Use than Part-Time 4WD Systems
How Does 4WD Work?
Four-wheel drive – like AWD – will send power and torque to all four wheels but employs a more rugged design that is built for off-road terrain is available with low-range gearing to make better use of the engine's torque. Low-range 4WD settings will provide maximum traction when faced with steep trails or rocky terrain. Four-wheel drive is available in part-time and full-time variants. Part-time 4WD systems rely on the driver determining when improved traction is needed and engaging the system.
Benefits of 4WD
Improved Performance and Traction in Extreme Terrain
Low-Range Gear Settings for Steep and Rocky Trails
Part-Time System Allows the Driver to Decide When it is Needed
---
READ MORE: Is Leather or Synthetic Leather Interior Better in Cars?
---
What are the differences between AWD and 4WD? Find the right fit for you and your family with this quick overview of AWD and 4WD systems. Contact the dealership team today to schedule a test drive and get behind the wheel of a used truck at Carl Black Hiram Auto Superstore!